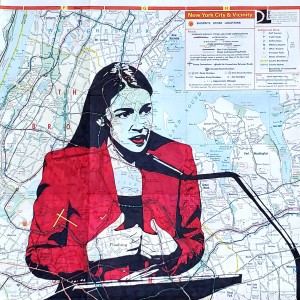 Tuesday Jan 11, 2022
Alexandria "AOC" Ocasio-Cortez: Stop using women as shields for poor behavior
"I'm someone's daughter too."
Alexandria "AOC" Ocasio-Cortez
US Representative for New York's 14th congressional district
Artwork:
AOC's portrait in the Fearless Portrait project consists of an ink drawing of her giving her floor speech calling out the misogyny in Congress. She's wearing a bright red blazer with matching red lipstick— something she describes as her "war paint." I've drawn her over a map of New York City's Bronx and Queens boroughs, where her district is located.
The Story:
On July 20, 2020, a male legislator crassly accosted Representative Alexandria Ocasio-Cortez, calling her "disgusting" and worse insults. She said he was being "rude" and walked away. In response to news reports of the verbal abuse, the instigator addressed the matter on the floor of the House of Representatives. Giving a weak, non-apology, he glossed over his gross disrespect and sought cover behind the excuse of about being married with two daughters.
The following day, AOC gave a powerful rejoinder, calling out the deflection for what it was: another instance of men mistreating women while hiding behind the women in their lives to avoid taking responsibility for their actions. 
"I will not stay up late at night waiting for an apology from a man who has no remorse over calling women and using abusive language towards women," she said in her floor speech. "But what I do have issue with is using women—wives and daughters—as shields and excuses for poor behavior."
"I am someone's daughter too," she reminded him, Congress, and the rest of the nation. "My father, thankfully, is not alive to see how Mr. Yoho treated his daughter. My mother got to see Mr. Yoho's disrespect on the floor of this House towards me on television. And I am here because I have to show my parents that I am their daughter and that they did not raise me to accept abuse from men."
Background on AOC:
Born: October 13, 1989, New York City. 
Entering Congress at 29, she is the youngest female representative ever. Born into a work-class family in the Bronx, Ocasio-Cortez did not have a typical background for a congresswoman. Her father was an architect and her mother cleaned houses and drove a school bus to make ends meet. "We were poor, so I was used to eating rice and beans every day," she says, describing her childhood. After college, she supplemented nonprofit and political cause work with jobs as a bartender and waitress.
In 2018, she decided to run for Congress and waged an unlikely campaign to defeat a 10-term incumbent in the primary election. This win was one of the largest political upsets of the time and was made all the more impressive given that Ocasio-Cortez operated her campaign from a paper grocery bag behind the bar she worked. Between shifts at the restaurant, she'd reach into the bag for campaign material and a change of clothes and set out to canvas. 
She has advocated strongly in Congress for the environment, more affordable healthcare and higher education, and immigrant-friendly policies, among other things. 
Music:
This episode contains music by Geovane Bruno and RYYZN. 
Sources: 
Comments (0)
To leave or reply to comments, please download free Podbean or